Sustainable, ethical, eco-friendly. Not words that could be used to describe many weddings.
Being sustainable means avoiding the depletion of natural resources in order to maintain an ecological balance (Oxford Dictionary). It's about meeting the needs of the present without compromising the future. But these days, people are more informed about the need to be sustainable. Finding ways to do your bit and reduce your carbon footprint is important. You can't stop your guests travelling hundreds of miles to be at your wedding (if you have invited guests that are hundreds of miles away that is!) but there are ways you can offset this with a few thoughtful and mindful changes.
Here I run through six ideas that are easy to implement and will help you feel just a little bit better as you do what you can towards having a sustainable and ethical wedding day.
1. Source local produce for your wedding breakfast
Pick a caterer that is close to your venue if possible to reduce the distance they have to travel. Find out where they source their products? Do they use local farmers and suppliers? Do they use Fair Trade products, organic products? If you're looking for sustainability in your wedding exotic foods flown in from thousands of miles away, or meat from animals raised in another country will just not do.
2. Seasonal Flowers
Along a similar line of season produce, pick flowers in season. Seasonal flowers do not have to travel as far as exotic ones. If you have plenty of time to plan you can always plant your own flowers and grow your own bouquets. This has the added benefit of doing your bit for the bees too!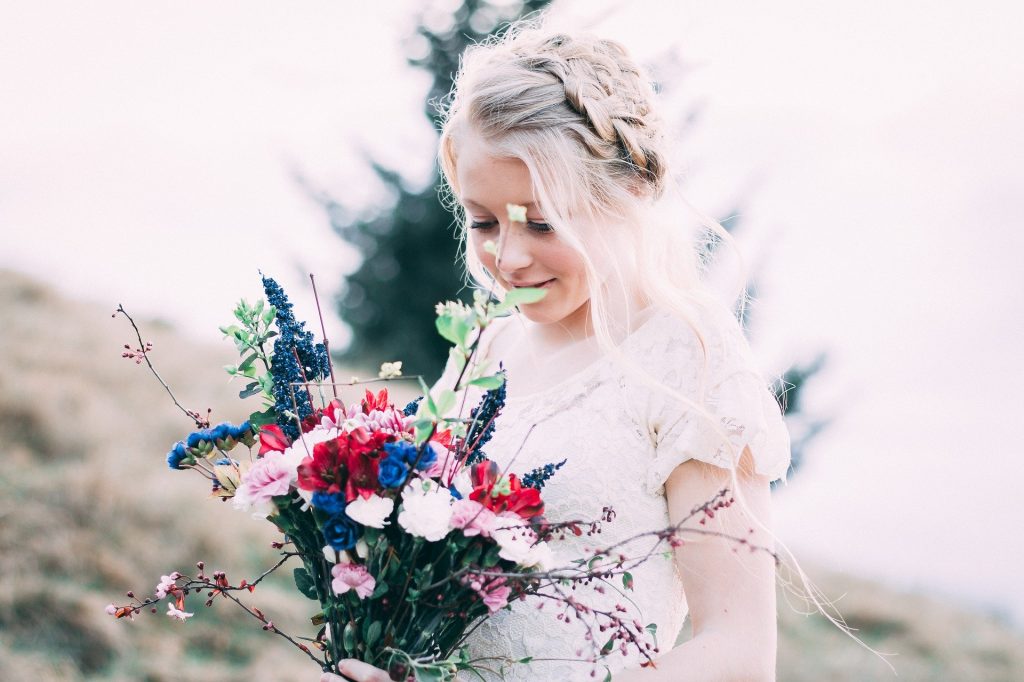 3. Where is your wedding dress coming from?
Some dresses that you order from Bridal Shops will not be made in your country. Try and find designers that make their dresses in the country you are in. When I got married (in the UK) my dress came from America. So not great for sustainability. But we did offset this by having our wedding in a zoo where the profits went to the zoo charity that helps conservation. You can always choose to buy a pre-loved dress which is great for sustainability as you are recycling. And these dresses are only worn once so in great condition.
The Mindful Wedding Planning Foundations Course is available on Udemy.
4. Eco-friendly wedding favours
A site like Etsy has lots of options for eco-friendly wedding favours such as homemade soaps, candles, tea bags etc. You can search by location too so you can pick sellers in your country to avoid adding on air miles to your favours.
Watch my video on Eco-friendly Wedding Favours from Etsy!
5. Recycling Points
If your wedding is not at a venue that provides these, make sure you have recycling points at your venue to make it easy to recycle bottles, cans, paper etc.
6. Eco-friendly/sustainable venues
Some venues are already doing their bit to be sustainable and will have wind turbines and solar panels for the electricity and will already be set up for sustainability. So if you want a wedding that is as sustainable as possible do a search for venues which have all the processes in place.
I'll be posting about eco-friendly venues soon!
I hope these ideas get you thinking about ways to be sustainable when planning your wedding and you are able to plan a wedding that doesn't cost the Earth.
You can watch the short video I created on this topic on YouTube here.
Join me in my Facebook Group – Mindful Wedding Community – for more advice, tips and calmness.
The Mindful Wedding Planning Foundations Course is available on Udemy.
Six ideas for a sustainable wedding